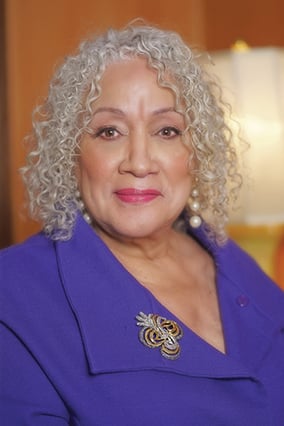 Harriet Michel was born Harriet Richardson in Pittsburgh, Pennsylvania on July 5, 1942, to John Robert and Vida Harmony Richardson. Attending A. Leo Weil School and McKinley Elementary School, Michel also studied in Norway as an American Field Service exchange student before graduating from Coraopolis High School in 1960. In 1965, Michel earned her B.A. degree in sociology and criminology from Juniata College in Huntington, Pennsylvania.
From 1965 to 1970, Michel was a program officer for the National Scholarship Service (NSSFNS). Joining the New York Foundation as its executive director in 1970, Michel became the first African American woman to head a major foundation. During President Jimmy Carter's administration, Michel served as director of the Department of Labor's Office of Community Youth Empowerment Programs/CETA. She established the Women Against Crime Foundation at the John Jay College of Criminal Justice in 1982 and served as president of the New York Urban League from 1983 to 1988. A resident fellow at Harvard University's Institute of Politics in 1988, Michel later joined the National Minority Suppliers Development Council (NMSDC), eventually becoming its president and chief executive officer. At NMSDC, Michel encouraged African American businesses to compete with larger white businesses.
For her work, Michel has received many awards including the 2004 Enterprising Woman of the Year Award; the Executive Leadership Council's Achievement Award; and the Legacy Award from the Department of Commerce's Minority Business Development Agency. A member of three United States Agency for International Development missions to South Africa, Michel also served on the United States-Haiti Business Development Committee. She is a founding member of the Association of Black Foundation Executives.