 Distinguished Service Award
The Distinguished Service Award recognizes ...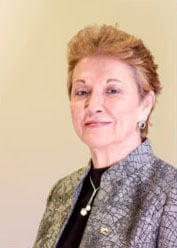 THIS YEAR'S RECIPIENT:
Casilda Del Valle
Senior Vice President
Chief Financial Officer, NMSDC
It's difficult to put into words what Casilda has contributed to NMSDC's mission, the organization, and to all the MBEs and corporations it has touched. She has been the constant steady hand, steward of the finances, and champion of the mission for 44 years.
Casilda is the embodiment of the American dream of most immigrants. She migrated from Puerto Rico with limited English and little resources or connections. Through grit, hard work and determination, she built an amazing career and life of impact and contribution to a cause bigger than herself. This is the dream of most people, and she made it happen.
NMSDC is deeply indebted to Casilda for her immeasurable sacrifice and contribution, and her legacy will carry on through the work of the team and the network she has cultivated and guided through over 4 decades.
We will continue to rely on Casilda as a resource and support as she ventures into a new chapter. Please join me in celebrating a remarkable person and her contributions to our mission. Her work has shown us the way and we are fortunate to have her and will continue to learn from her and follow her path to drive impact.
With Gratitude and Appreciation,
Ying McGuire
CEO & President
NMSDC