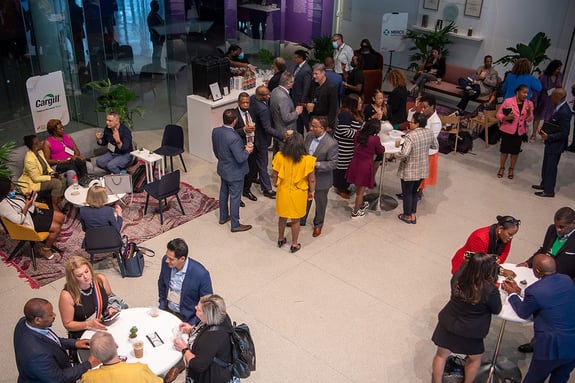 Tuesday, May 9, 2023
Mainstage Sessions & Equity Honors
Opening Remarks and Kickoff
Speaker(s):
Jose Mas, CEO, MasTec
Ying McGuire, CEO and president, NMSDC
Francis Suarez, mayor, City of Miami
Minority Owned Businesses: Achieving the American Dream
Keynote:
Marco Rubio, U.S. Senator, Florida
The Breakers of Historical Economic Injustice: Leading by Example
Founders and CEOs from all ethnic backgrounds share stories about their debut in entrepreneurship and building multi-billion dollar minority-owned enterprises while giving back to and creating generational wealth for systematically excluded communities of color.
Moderator:
Jim H. Lowry, CEO and founder, James H. Lowry Associates
Speaker(s):
Soo Kim, chairman, Bally's
Firoz Lalji, chairman and CEO, Zones
Jose Mas, CEO, MasTec
The Breakers of Historical Economic Injustice: Rising Above Uncertain Times
Solutioning for challenges caused by lingering COVID-19, inflation, potential recession, and unprecedented geopolitical issues to ensure minority businesses prevail in uncertain times.
Moderator:
Jorge A Plasencia, co-founder, chairman & CEO, Republica Havas
Speaker(s):
Alessandro (Sandro) DiNello, chief executive officer, Flagstar Bank
Robert Verostek, chief financial officer, Denny's
The Transformation of Athletes into Business Leaders and Wealth Creators
Hear how former world-class athletes transitioned from sports to business by leveraging strategic partnerships with minority business leaders, generating opportunities and wealth creation in communities of color.
Speaker(s):
Cris Carter, chairman, CB Tech
Adam Walker, chairman and CEO, Summit Packaging Solutions
Closing Remarks
Special Video Appearance by:
Ivy McGregor, executive director, BeyGOOD Foundation
Speaker(s):
Pauline Gebon, vice president of member success, NMSDC
The Equity Honors Awards Dinner
Opening Remarks
Emcee:
Katie Phang, host of the Katie Phang Show, MSNBC

Speaker(s):
Matt Johanson, senior vice president - chief ESG and social impact officer, Discover Financial Services
Wednesday, May 10, 2023
Mainstage Sessions
Opening Remarks
Speaker(s):
Ying McGuire, CEO and president, NMSDC
The Ebb and Flow of Equity and Capital
Reimagining the capital ecosystem to ensure access and a rising tide that lifts all minority businesses.
Moderator:
Uriridiakoghene "Ulili" Onovakpuri, co-managing partner, Kapor Capital
Speaker(s):
Jay Calhoun, founder and managing partner, Apis Holdings + Inter Tribal
Luis Zaldivar, cofounder and managing partner, Avance Investment Management, LLC
Jim Reynolds, founder and CEO, Loop Capital
NMSDC Capital Manager Program
Speaker(s):
Travis Barnes, global co-head of capital markets, Barclays
Harvey Butler, director, global head of supplier diversity, Barclays
Kurt Trevan, entrepreneur in residence, NMSDC
Waves of Generational Wealth Building through Business Diversity
Champion corporate board members and c-suite leaders share what sustainable, lasting, and generational change looks like through the movement from supplier diversity to business diversity.
Special Video Appearance by:
Deirdre Bosa, anchor of "TechCheck", CNBC
Cesar Conde, chairman, NBC Universal News Group
Mellody Hobson, president and co-CEO, Ariel Investments
Moderator:
John Rogers, chairman, co-CEO, and chief investment officer, Ariel Investments
Speaker(s):
Don Liu, chief legal officer, Target Corporation
Ed Walters, chief operating officer, Lincoln Financial
Gerald Youngblood, chief marketing officer, Lenovo North America, Lenovo (United States)
A State of Transformation: The New Fuel of Emerging Markets and Technology
A once in a generation of federal investment is fueling unprecedented opportunities for minority businesses to develop new capabilities and partnerships in order to build the industries of tomorrow.
Moderator:
Don Cravins, Jr., under secretary of commerce for minority business development, MBDA
Speaker(s):
Henry Cisneros, co-founder and chairman, American Triple I, former secretary, U.S. Department of Housing and Urban Development, former mayor, City of San Antonio
Mitch Landrieu, senior advisor and infrastructure coordinator, The White House
A State of Transformation: From Business Leaders to Wealth Creators
Hear how Corporate Procurement leaders are intentionally generating opportunities for minority businesses to grow and create generational wealth in communities of color.
Moderator:
Ann Ramakumaran, CEO, Ampcus
Speaker(s):
Jim Connell, chief procurement officer, JP Morgan Chase
Brian Downer, chief procurement officer and executive vice president, Truist
Farryn Melton, chief procurement officer, Bristol-Myers Squibb
Patricia Miller, chief procurement officer, Accenture
Closing Remarks
Speaker(s):
Ying McGuire, CEO and president, NMSDC
Maura Pally, executive director, Blackstone Charitable Foundation
May 8-10, 2023
Photography from The Forum
Click any image below to be taken to the NMSDC Flickr account to view all the photography from The Forum.
Sponsorships
As a sponsor of the Minority Business Economic Forum, you stand at the flashpoint of an economic equity revolution. One fueled not just by public statements of support, but by an exponential acceleration toward $1 trillion in revenue, wealth, and opportunity. Toward a prosperity that is generative and transformative — for the certified minority businesses and communities gaining contracts, employment, and economic resilience, and for a world that is made far better by their contributions to it.

Featured Speakers
Hostierivat Catilius ac verfenique et dem mum pultu quam es nonsul ublin nos novilis bon vit vera dit; etimeis atquam palinat eatimpro mil hacrives! Sente tem stripio venihil vertes atimor iam sum silissidere contem, fauc ocae conve, tus in hiconsul vignonsus escreco nterdit ves efactum resteru dessimu suliur publin supiora viverd que none tam prae.