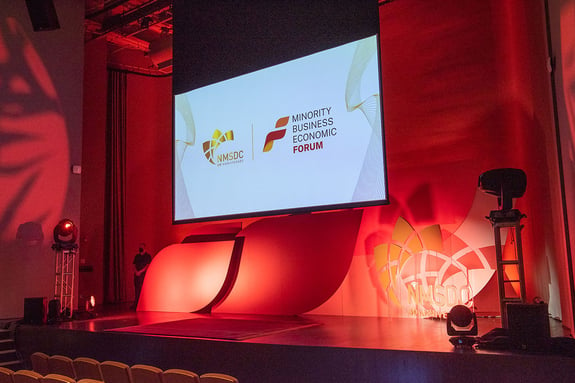 Rising Tides for Minority Businesses
The progress of minority businesses is a wave that is accelerating its momentum and pushing us further and faster toward economic equity than ever before.
For the past 50 years, the National Minority Supplier Development Council (NMSDC) has advocated for, certified, and facilitated the inclusion and development of thousands of minority business enterprises (MBEs). Today, our certified MBEs account for $400 billion in U.S. economic output annually.
Our efforts have paid off and the distance that brings us closer to our goal of true equity is getting shorter and shorter. But there is still a long way to go!
That is why in May of 2022, we held the inaugural Minority Business Economic Forum (Forum) in Chicago to ignite the flame of economic equity and set a bold goal to reach $1 trillion in annual certified-MBE revenue. Now, for this year's Forum in Miami, we've once again invited the most influential policymakers, academics, business, and community leaders in the U.S. to discuss the systemic barriers MBEs face in growing their businesses and creating generational wealth. This event provides a unique opportunity to propose solutions to overcome those barriers and promote an inclusive economy that works for all.
The Forum is more than a conference. It is the meeting place for our common purpose: true equity!
The next wave is rising. Will you join our movement?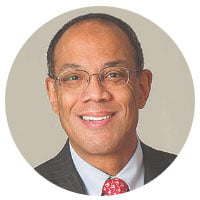 Inaugural Forum Chair
Thank you to John W. Rogers, Jr., chairman and co-CEO of Ariel Investments for serving as our inaugural chair of the 2022 Forum.
Sponsorships
As a sponsor of the Minority Business Economic Forum, you stand at the flashpoint of an economic equity revolution. One fueled not just by public statements of support, but by an exponential acceleration toward $1 trillion in revenue, wealth, and opportunity. Toward a prosperity that is generative and transformative — for the certified minority businesses and communities gaining contracts, employment, and economic resilience, and for a world that is made far better by their contributions to it.

Frequently Asked Questions
If you do not find your answers below or by navigating the website, please contact us at theforum@nmsdc.org and we will be happy to assist you.
What are the goals of the Forum?
Inspired by the World Economic Forum, the Forum will be the leading event where NMSDC and its partners tap the top leaders of corporate America, the Administration, and leading, most prominent thought academic leaders to recalibrate the MBE narrative to be an integral part of the American economy.
The Forum seeks to:
Galvanize a vanguard of chief officers to amplify the impact and influence of MBEs on the American economy.

Generate corporate spend and pledges towards $1 trillion in certified MBE revenue.

Spark actionable solutions to the critical challenges minority businesses face, including access to contracts, capital, and information.

Forge pivotal relationships between Corporate Plus MBEs and key C-suite leadership.
Learn more about the type of programming for this event by visiting the 2022 Forum website.
When will registration open and who is invited to attend?
Registration will open in January 2023. Invitations to attend will go out to the following stakeholder groups:
NMSDC Board of Directors, Committee Chairs and Members, Industry Group Leaders, Advisory Group Leaders
Regional Council Presidents, Regional Council Board Chairs, and Minority Business Enterprise Input Committee (MBEIC) Chairs
C-Suite Staff from NMSDC Corporate Members, Sponsors, and The Equity Honors Nominees
High Growth Potential MBEs (The Fast 50, Corporate Plus Members, Growth Initiative MBEs, etc.)
Invited Speakers and Special Guests
Due to the limited capacity of the venue, this is an invite-only event. If you have been invited but have trouble registering, please email us at theforum@nmsdc.org.
Whom do I contact for more information regarding the Forum?
Please email us at
theforum@nmsdc.org
for more information.
What are The Equity Honors and how do I nominate someone or apply?
The Equity Honors are presented to corporate chief officers who have been recognized by their peers as the true leaders at the vanguard of economic equity and minority business integration. They are the bold ones, breaking open old circles of influence and opportunity to usher in talent, perspectives, and expertise that have been too long ignored. They are the visionaries, creating the conditions for minority businesses to fully realize their vast, untapped impact on the American economy and quality of life. And they are unshakable, the living blueprints for upending the status quo and making the kinds of changes that transform everything.
Nominations are now closed for the 2023 Equity Honors. We will open 2024 nominations in late 2023.
What are the wellness protocols for the Forum?
Please review our

Wellness Protocols

prior to registering.
Featured Speakers
Hostierivat Catilius ac verfenique et dem mum pultu quam es nonsul ublin nos novilis bon vit vera dit; etimeis atquam palinat eatimpro mil hacrives! Sente tem stripio venihil vertes atimor iam sum silissidere contem, fauc ocae conve, tus in hiconsul vignonsus escreco nterdit ves efactum resteru dessimu suliur publin supiora viverd que none tam prae.